Dendt featured in Intelligencer Article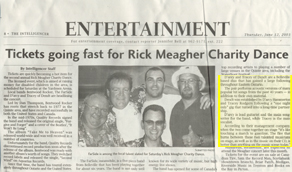 click to enlarge
Dendt has received the first of many great reviews of their debut CD "One Night Only". Newbands.ca checked out the CD and got thouroughly Dendted! The following are excerpts from the review:
Once again I'm back with yet another Indie review. This time around the band is DENDT, from Belleville Ontario.
As I listened to their music and checked out their online press kit (good idea), I liked what I seen and heard. I sensed almost an 80's flavour to the music with a splash of the 90's and a tad bit of tragically hip in there......
......Dendt is a must see and hear, this band has a future if they keep at it .....
....I hear a lot of potential in these boys and a great future for sure if they can keep it all together, which is always the biggest hurdle to leap being in a band....
Jaime McCready - Newbands.ca
CLICK HERE to read the full review.